Let's take a look at the area of the rich and famous, Gangnam~
High Class Fashion: Gangnam Style
강남구
Garosugil
가로수 길, the most popular part of Sinsa-dong, is a street lined with shops, cafes and restaurants and is commonly known as
"The road of artists".
This sophisticated, up-and-coming street is full of all sorts of trendy shops where you can find
unique and exotic clothing
. It is also home to plenty of boutiques and pop-up shops where you will be able to find something really unique. There are plenty of cafes and restaurants that you can then relax in after shopping, as well as bars that often hold live music and galleries you can visit.
Location:
Subway Sinsa Station, Line 3, Exit 8.
Useful Information:
Keep an eye out for the various events and pop-up stores that are held in Garosugil!
Apgujeong
압구정동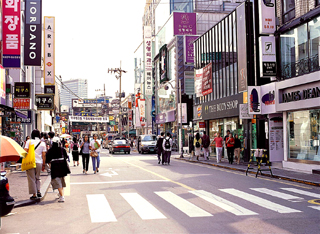 Apgujeong is the home to
luxury
brands and high class fashion.
The best place to check out the next trend among the rich and famous is
Rodeo Street:
birth place of leading fashion trends among celebrities, foreign brand name stores, reasonably priced hip hop fashion shops and accessory shops.
There are also plenty of Beauticians where you can get your nails done that are often visited by female stars but not closed to the public, so you may find yourself sat next to an idol whilst you get a manicure! Apgujeong is also home to cosmetic surgery and the most popular
clinics are clustered on the streets, although these are classed as the "best" place to get surgery, keep in mind they are also the most expensive and as they're where the most rich and famous Koreans get their surgery.
Location:
Subway
Apgujeong Station,
Line 3.
Useful Information: Apgujeong is famous for being the wealthy area of Seoul, so make sure to take your credit card as well as your camera as many Korean celebrities are often spotting shopping here due to the high price and quality of goods as well as it being home to JYP Entertainment and S.M.Entertainment.
COEX Mall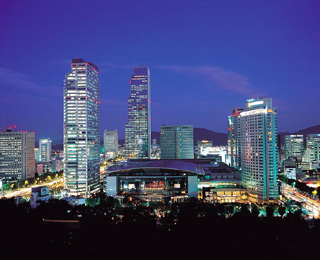 COEX Mall is the largest underground shopping center in Asia. It is located in the basement of the Korea World Trade Center and is considered to be the best shopping and entertainment complex in the area.
The mall is home to many different kinds of shops ranging from small stores to brand name shops as well as a large food court, event court and the Bandi & Luni's bookstore.
The mall is also home to other attractions such as the Game Champ Arcade, Megabox Cineplex, COEX Aquarium and even a Kimchi Museum. Many events are also held here from fashion to H
allyu, from culture to movies.
Location:
Subway Samseong Station, L
ine 2, E
xits 5 and 6
Opening Hours:
10:30am to 10:00pm
Useful Information: If you want to go to an event here, make sure to check if you need to buy a ticket!